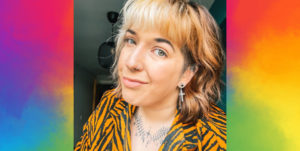 Meet Shelley, our Lifecycle Marketing Specialist at NaturalMotion Games. Shelley is also our zPride Regional Representative and Content Lead for the UK (NaturalMotion) based in London, UK!
zPride is an affirming collective, created to encourage LGBTQ+ Zyngites and their allies to bring their authentic selves into the workplace, and inspire progress in the gaming industry.
Keep reading to learn more about Shelley and what Pride means to her!
What is your role within NM/BA and how did you get here?
I'm a Lifecycle Marketing Specialist, primarily on Star Wars: Hunters but I also have experience working on Words With Friends & Harry Potter: Puzzles & Spells. I remember seeing the job post for my role but was held back by some insecurities, as well as being a (queer) woman as women in gaming are quite underrepresented. However, when the recruiter happened to reach out to me I decided to give it a shot and the rest was history.
What would someone be surprised to learn about your company or profession?
 Most think that part of my job is to randomly "spam" players with communications about a game. However, it goes much deeper than that as we aim to communicate content to players that are relevant to their player persona which involves some strategical thinking and utilising data points to the best capabilities which is one of the things I thoroughly enjoy about my role.
Tell us about joining zPride and what the group has brought to you and your career? Being part of zPride has been a blessing as I get to work with talented likeminded folk that shares the same mission which is to contribute towards an inclusive environment in the workplace. Also being part of a community within the workplace across the several studios is what brings me joy.
What does Pride mean to you? 
Pride for me means being who I am. I am proud to have the guts to love and not suffer from shame just because I identify as someone who is queer. Shakespeare said it best: 'This above all to thine own self be true.'
If you could go back in time, what advice would you give your younger self? 
As someone who struggled with their sexuality up until their early 20s and being a college dropout who worked hard to get where she is now. I'd tell my younger self not to dwell too much on the negative and continue to be my true self as things do get better – the younger me, let alone me 5 years ago, would be baffled to learn where I'm at today as well as the memories and growth that I've made.