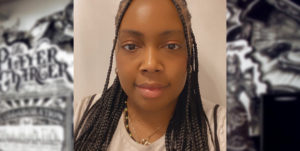 Meet Nicole, our Senior Product Marketing Manager and BZU UK Chairperson at Zynga in London, UK.
The Black Zynga Union (BZU) is one of our Zynga Employee Resource Groups. Their goal to increase the black representation at Zynga and to inspire change in the technology and gaming industry. The theme for Black History Month 2022 is 'Time for Change: Action Not Words'. It aims to acknowledge that history needs to be learned from and without action and working together, we cannot move forward.
Read more to learn more about Nicole and why leading this year's Black History Month celebrations was so important!
What is your role within Zynga and how did you get here?
I am the Senior Product Marketing Manager for the Star Wars: Hunters IP. I have been working in brand marketing for 10 year's developing from assistant to my current role. I had initially started within TV, however quite quickly moved into gaming where I have been for the majority of my career. I joined Zynga as I wanted to experience the world of mobile gaming after honing my skills in the console world.
What would someone be surprised to learn about your company or profession?
One surprise about my profession is how much variety it can offer, you can be creative, data-driven, or both. I find that this role can be molded to suit your abilities and passions.  
How does it feel when you see your work in a real-life setting?
My favorite part of my job is seeing my projects come to life; I love attending events and always observing the reactions of players but it is nice to experience the whole atmosphere and the changes that are happening in the industry. Additionally, I enjoy trailer production from having a vision to final execution. It's fun to be part of live-action shoots and I still get the same enjoyment when revealing trailers to players. 
Why is Black History Month so important to you and still relevant in 2022?
Black History Month is a time to shine the light on how black people have contributed throughout history; it is also a time to celebrate the people around you whether these are friends, family, or colleagues who inspire you each day. To celebrate experiences and encourage each other to strive for excellence. 
What one action would you advise people to take to ensure that we see change?
I would say be actively engaged, join different groups, and step outside your comfort zone. You may not have all the answers and sometimes you can feel uncomfortable but taking those steps enables you to learn, especially if you are going with a positive mindset.
As a woman in the tech industry, what are some difficulties or obstacles that you've faced, and how did you overcome them?
There are moments throughout my career that I have felt as if my voice was not heard and other times isolated. I have learned that setting boundaries are key to performing at my best but also for others to collaborate effectively with me, across different projects. 
Tell us about joining the BZU and what the group has brought to you and your career?
This is the first time I had led a group of this type or had access to one within the working environment. I was proud that this year I had put on many activities that everyone had enjoyed such as the Ghanaian Cooking Class, Microaggression Masterclass, and our book giveaway which had led to a book swap. The BZU for me is a space where we can share black culture within the working space. I love the ability to have a space to speak openly to my peers, share our experiences and gain advice. 
"The BZU for me is a space where we can share black culture within the working space" 
"…to share experiences and encourage one another".